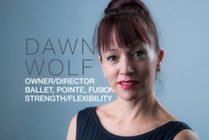 Dawn Wolf Ponte Vedra Ballet & Dance Company was started by Owner and Artistic Director Dawn Wolf in 2003. "Miss Dawn" , originally from the suburbs outside of NYC began her passion for dance, the arts, and especially ballet at a young age. She began her early training under Diane Frankel's Coupe Theatre Studio, later training in classical ballet in the Pre-Professional Trainee program the Joffrey Ballet NYC, David Howard, Briansky Ballet, Boston Ballet, NYC Ballet & Kirov Ballet Dancers. She continues her instructional training and injury prevention and has been the recepient of the 2008 Hermitage Ballet Teacher Scholarship in St.Petersburg, Russia and 2010 Ponte Vedra Hero for the Arts. After over 17 years in the Ponte Vedra community she continues her passion for inspiring and teaching proper technique to students from Ponte Vedra, Nocatee, Jacksonville, Saint Augustine and surronding areas. Continuing free outreach programs for senior citizens and spearheading the Ponte Vedra Ballet & Dance Company's Tendu Scholarship program for gifted students, she is committed to our children and community to provide the highest quality instruction, whether dancing for enjoyment or en route to a professional career. Her students have received scholarships and admittance to some of the highest level Pre-Professional Ballet Conservatories around the nation. Our instructors in classical ballet, pre-pointe, variations, contemporary, flamenco and modern .
With the expansion into Jazz, Musical Theatre, Tap, Acro and Broadway we have created Fusion Performing Arts Academy to lead the way with quality instruction.
---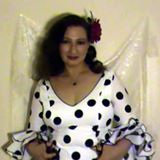 C. RodriguezIn 2010 Carolina Rodriguez joined
Ponte Vedra Ballet & Company,
where she and Mrs. Dawn Wolf, director of the company, introduced under the name of Flamenco Perspective at Ponte Vedra Ballet, a complete and unique for Jacksonville, classical Spanish Dance program. A classical Castanet program, is also available to Students of all ages. This has earned the school a continuing invitation to represent Jacksonville in Festivals held throughout the country, as well as requests for private workshops for local and out of state students. In addition, Carolina teaches adult classes, a Flamenco fitness program and workshops for all levels, including non-Ballet students.
When she is not teaching, she is frequently offering artistic presentations, including the 2013 feature with the Jacksonville Symphony String Quartet as Castanet soloist, as well as didactic presentations for schools and colleges, and she has been featured on TV.
Carolina also acts as the US counterpart for the American Castanet Society and was published recurrently as an independent writer for Yallah Dance Magazine. She continues to write independently.
Her extensive experience and unique knowledge allows her to offer well-structured, comprehensive dance programs to her students.
​
---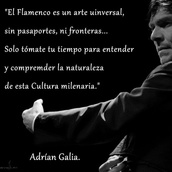 Guest Instructor and Choreographer Adrian Galia Adrian Galia Compañia Flamenco
"Flamenco is an universal art, without passports and without borders.
Just take your time to understand and comprehend the nature of this millennial culture. "
Adrian Galia
is considered one of today's leading visionaries and is established as one of the great Flamenco artists of our time. His work and contributions to the art form have gained him respect, admiration and a loyal following from all over the world. Being the son of the dancers La China Flamenco and Jorge Luis, Adrian Galia grew up immersed in the dance world. With the best dancers and teachers caring for his artistic education, he developed a unique and enriching perspective, which has led him to become the renowned dancer, teacher, choreographer, director and creative ground breaker, he is today.
He is trained in a variety of styles and dance forms, which allow him to create and showcase a very unique perspective. While being interviewed for Balletin Dance Magazine, he described his art in the following words: "I'm not merely straight lines, nor merely curves, nor merely tall or short. I am me. I have reached a point where I identify myself with dance through Flamenco; it's the instrument, through which I sculpt the rock."
---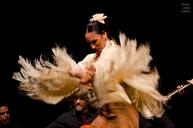 Guest Instructor Loli Sabariego
​Spanish Classical Dance with Loli Sabariego
​
---
---